Announcing Changes to Our cPanel Product Offerings

We wanted to let our cPanel customers know about some licensing changes that will be happening beginning November 1, 2019. cPanel recently announced significant changes to their licensing structure. These changes took everyone in the hosting community by surprise, and we're all working to implement these changes.
Licensing Models
Licensing for cPanel has previously been based on a per-server licensing model. The new licensing model is a per-account model. (This refers to an account that logs into the cPanel interface to manage their website, not a domain name.)
Product Names
VPS is now called Cloud. This term refers to a virtualized environment. Dedicated is now called Metal. This term refers to a server operating without virtualization software.
Licensing Options
Cloud (formerly VPS) licensing packages are available on all account tiers. Metal (formerly Dedicated) licensing packages are available on Premier tiers only. (See chart below.)
Billing Options
All previous licensing options will transition into month-to-month licensing. Annual or multi-year licenses are no longer available. Current annual or multi-year licenses will transition into monthly licensing when they come up for renewal.
Upgrading Licensing
A cPanel license must be upgraded to the next tier to increase the maximum number of accounts.
New cPanel Pricing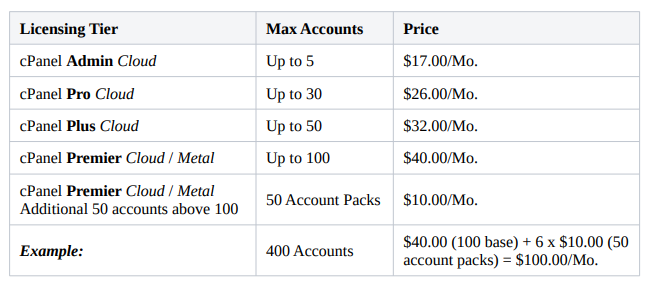 Questions about your cPanel license?
We've only covered general information here, so please let us know if you have additional questions about these changes and your account. We'll do our best to answer them!
Notice to all Classic Hosting Platform Customers:
If you're also a Classic Hosting Platform customer, we're in the process of streamlining and updating all of our Classic Hosting plans. These new plans will be available on November 1, 2019. Until this date, our ability to answer your specific billing questions about cPanel licensing will be limited. Thank you for your patience.