HostAdvice Research – How Email Hosting Works and Why You Need It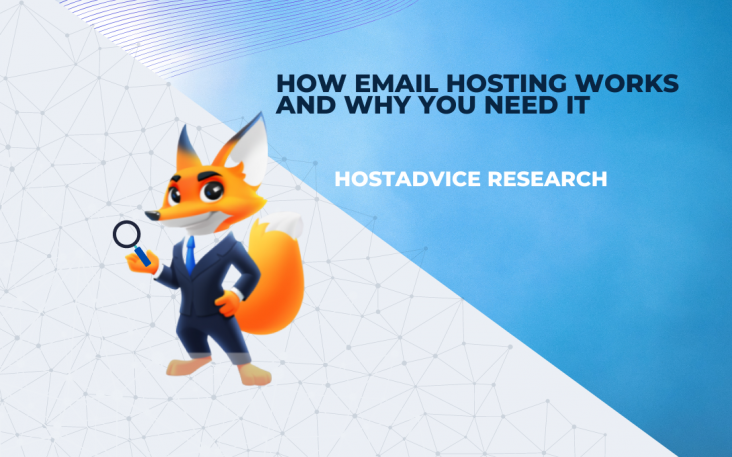 This is a guest post by HostAdvice.
Most people have heard about shared hosting, VPS, and dedicated hosting, but few are familiar with email hosting. Email hosting is another type of web hosting that works similarly to the other web hosting types. Namely, it is a hosting service that rents out and operates email servers. Email hosting can be included as a part of a particular web hosting package, or you can get it as a separate service.
With email hosting, you can set up a custom email address that will match your website or business. You will need to have a domain name to get email hosting, just like with web hosting. With email hosting, you will be able to send, store, and receive emails on the server that your provider offers. You may be thinking, "Well, I can do that for free anyway. Why would I use email hosting to do something I already do for free?" With a professional email service (email hosting), you can create a professional email that will contain your domain name or, in other words, your company's or business name.
On the other hand, with free services like Yahoo or Gmail, your email address will have suffixes like @yahoo.com or @gmail.com. Thus, even though both services might appear similar except for the fact that one is free and the other is not, they are not similar at all. But more on that later.
Let's learn how email hosting works first. With email hosting, in addition to getting a server where you can host your emails, you will also get excellent features and solutions to scale your business, like secure authentication, re-routing & replication of emails, management of user domain names, and more. Also, with email hosting, you will get an added layer of security when you send and receive emails because professional email servers are usually equipt with industry-grade encryption. So, you can rest assured that the data and information you send or receive via email is safe, and the risk of you receiving spam, viruses, or experiencing data breaches is completely minimized.
As we mentioned, sometimes, specific web hosting packages come with email hosting included. However, if you don't need a website but need email hosting, you can get a separate email hosting package from a provider. One such provider that offers excellent email hosting services is Vivio Technologies.
Vivio Technologies offers two excellent email hosting options – SmarterMail and Zimbra Hosting. With their email hosting plans, you will get great antispam and antivirus features and overall excellent email hosting services for your business.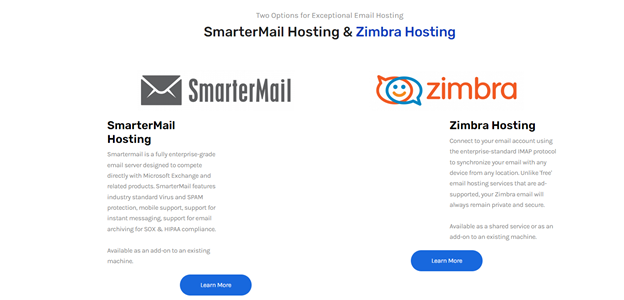 If you are still not sure what's the best email hosting provider for your needs, you might as well consider Vivio Technologies. Our users at HostAdvice have shared their opinions and experiences with using Vivio Technologies, and the provider has received mainly favorable remarks and reviews.
Why Do You Need Email Hosting?
Getting email hosting for your business can help you build a stronger brand identity. Having a professional email address via which customers and associated can contact you will help you shape a professional and recognizable image for your business. Also, thanks to the added layer of security that email hosting offers, customers and associates will feel safer doing business with you and will recognize you as a reliable and legit company.
Also, most email hosting providers will usually manage their users' email services so that they can focus on other important things. And, you can rest assured that all the information and data you share via your email will be safe and away from the prying eyes of unauthorized parties, which is not the case with free email options like Yahoo, Gmail, and others.
With email hosting, you will have more opportunities to grow and use your email to generate leads and sales, and you will be able to access your email from anywhere.
About HostAdvice
HostAdvice was established in 2014 to provide unbiased web hosting comparisons based on user reviews. As of now, we have published more than 4,000 review pages and have received over 65,000 user reviews on which we base our comparisons.
We also help individuals and businesses worldwide to find a web hosting provider that best suits their needs and offers the best prices and reliability. Also, many come to us to find out whether the provider they have chosen is the right one for them before committing to a specific plan. However, comparisons and reviews are not the only things we offer. Namely, we also offer a wide array of how-to articles and hosting guides written by our team of experts, which are available on our website and can assist you in learning more about the tech world.
Last Words
All in all, if you want to build a reliable brand that people and businesses will trust and work with, email hosting can help you greatly to achieve this goal. It will allow you to create a professional image for your business and a brand that is recognizable and seen as safe and reliable by both customers and associates alike.