How Vivio's New Site Improves Your Hosting Experience [details]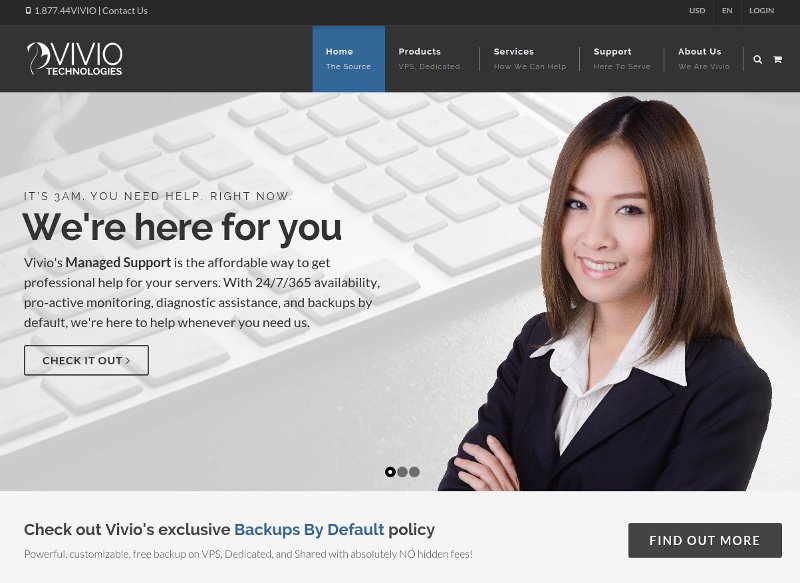 As some of you know, Vivio has not made a significant change to its website in well over 5 years. However, after a grueling amount of work, and thanks to the hard work of Vivio's entire team, the long wait is finally over and with it comes significant changes to how you interact with Vivio and the hosting services you depend on.
Vivio's New Web Site
Most noticeably, the Vivio web site has been given a complete overhaul. This new site will enable us to show you all of the awesome services we now provide but haven't been able to talk about very much due to the limitations of our previous site. For example, we're now able to showcase some of our recent partnerships, like the ability to offer Sophos Anti-virus and UTM appliances which provide security services and load balancing. If you haven't done so yet, please take some time to check out our new site! If you have any questions about anything, or just want to offer some constructive feedback, we'd be delighted to hear from you!
New Client Portal: Powered by Ubersmith
Vivio is extremely pleased to finally announce the integration of a whole new Client Portal, aptly named "portal.viviotech.net". Portal is running the powerful Ubersmith Hosting Management System under the hood, which is used by many of todays largest hosting providers. Vivio's new Client Portal finally solves many of the long-standing issues that our previous systems have had, and completely unifies your interactions with Vivio.
Before I go on about how cool the new Ubersmith system is, please understand that while we've completed the integration of Ubersmith into our new systems, the migration process for services is a very time-intensive process, and will take a while for us to complete. If you'd like Vivio to migrate your service data from the old system to Ubersmith sooner rather than later, simply contact us to let us know and we'll prioritize your accounts. Thank you for your understanding here!
The following are some of the highlights of the many benefits you'll receive thanks to the Vivio's Ubersmith implementation:
1) Direct access to Support and History
Vivio's previous support ticket system was not publicly accessible. So, while you could email us and access your own email history, you never had direct access to your own support ticket history. With the integration of Ubersmith, you have direct access to any support request that you've ever made within the Ubersmith system. New support requests you send to us via email are automatically assigned to your account based on your email address, and support technician responses are all logged and tracked, so even when a support ticket gets resolved, you always have a place where you can log in and review previous support requests. Everything is documented and recorded for your convenience and ease of access.
2) Direct access to Services *

Can't remember if your server has 3 or 4 GB of RAM? No problem, just log in and check your service! Vivio's previous system made valiant efforts to log and track services, but the system became disjointed whenever there were specific customizations to those services – like a discounted rate or special request. This meant that when you reviewed your services in the old system, the pricing or features didn't always match up. With Ubersmith, all services are now 100% customizable. This means that whenever you review your services, you can rest assured knowing that the service listing will be completely accurate. No special circumstances, just accurate information.
3) Direct access to Invoices *
Vivio's old invoicing system was not accessible from the web. Customers who wanted to see an invoice had to call or email our billing department to check on an invoice. Now, with Ubersmith, all you need to do to review your invoices, payment history, and details is log in to your customer portal and review your invoices. No calling first, no emailing, just direct access whenever you want it.
4) Direct access to Payments and History *
In Vivio's old system, if you wanted to update your credit card or your billing information it was not a simple process. With the new Ubersmith integration, you now have direct access to your own payment information, and can change or update it whenever you like. You also have direct access to your payment history, so you can see what payments came from what accounts, whenever you need to know.
* Please understand that Services, Invoices, and Payments are only available to those who's services are in the new Ubersmith system. The migration process from our old system to our new system is very complex and time-consuming. We're working diligently on migrating your service records from the old system to the new, but if you'd like your service data to be migrated sooner rather than later, just let us know and we'll prioritize your accounts.
There are many other awesome improvements that come with Ubersmith, but the above improvements will be the most noticeable for most folks.
Logging in to Ubersmith – Password Reset Required!
Even though not all service data has been imported into Ubersmith from our old systems, all client data has. That means that you can log in to the new Vivio Portal at portal.viviotech.net using the same username and email address that you've been using with Vivio's previous system – with one exception, your password will need to be reset!
Since your passwords are encrypted in both the old system and the new system, we could not read it, and therefore could not transfer it. Instead, when we imported your user accounts, we generated random passwords, which you will now have to reset in order to access your account on the new Ubersmith system.
If you haven't yet, please take a moment to visit https://portal.viviotech.net/and reset your password.
Services Data Migration – A Long Process
Repeating what we said earlier: While Ubersmith has been integrated into our processes, and all your client data has been migrated, not all service data has been migrated to the new Vivio Portal yet. Vivio cares for lots of clients with a huge amount of service data, so migrating services to an entirely new system is a long and drawn-out process. If you would like your services be migrated to Ubersmith sooner rather than later, please contact us and let us know. We'll prioritize migrating your services to the new Ubersmith systems as soon as possible.
New Lucee Shared Accounts
We're upgrading our shared CFML hosting to utilize the modern Lucee open-source CFML processing engine, however, we've got some work to do on our Lucee4cPanel project before it's ready, so we're temporarily suspending new orders for shared CFML hosting. This project is expected to be completed very soon, however, and we'll update our site with the updated Lucee Shared Hosting plans as soon as they're ready. Thank you for your patience!
New Knowledge Base
Vivio's new Knowledge Base system is powered by Lucee and MuraCMS, and aims to provide detailed, well-written, information on how to accomplish the most common day-to-day tasks of working with your services here at Vivio. There are many useful articles currently, but we aim to create many many more. If you have a great idea for a knowledgebase article, we'd love to hear from you!
Thank you for partnering with Vivio, and we look forward to a bright and prosperous 2016!