The tech world moves quickly. New security patches and software updates are released on what seems like a daily basis. New software versions seem to appear out of nowhere. It can be challenging to know how many resources should be given to addressing these server maintenance projects. And it's easy for other day-to-day business activities to crowd them out. Over time, severs are increasingly at risk as software ages beyond end-of-life.
What does software end-of-life mean? It's the date or time frame provided by a software company to indicate when bug fixes, security updates, and other support will end for a specific software product.

It's not uncommon for businesses to endanger the entire online presence of their company by running software that's no longer supported, leaving a company progressively more at risk as vulnerabilities continue to go unaddressed. Even servers that are running on the latest software versions carry a certain level of risk from yet-to-be-identified security exploits. However, the degree of risk has been reduced by all the previous fixes and updates that have been applied. When software vulnerabilities are left unpatched, it's impossible to protect a business from the threat of potential exploits. In the last two years, 57% of breaches were caused by a vulnerability where a patch was available but hadn't been applied. Each year, the severity and volume of malicious hacking increases. And each year, hackers are finding and attacking vulnerabilities at a faster rate, leaving businesses with a narrowing window of response time. So it makes sense that the companies that have avoided breaches are significantly faster at both detecting and patching vulnerabilities. 1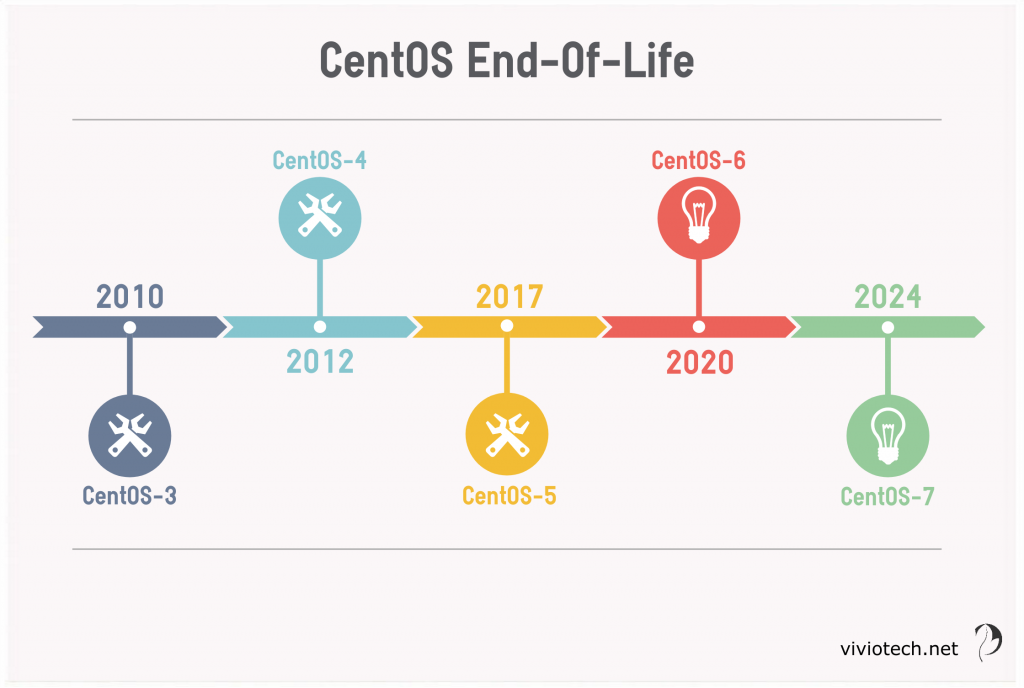 The Benefits of New Software
significantly more vulnerabilities patched
reduced security threat from hackers
continued access to updates and security patches
new and improved features
greater compatibility with other applications
removal of poorly-functioning features
improved overall server performance
reduced time to complete backups

Beyond security concerns, running old software also causes issues with compatibility. Each new software version adds and removes functions to improve functionality and performance. An older operating system may still be compatible technically, but as it falls further and further behind, it encounters more and more conflicts with these changes that impact stability and overall performance.
Fortunately, this end-of-life time frame can be used by businesses to budget, plan, and schedule for software upgrades several years into the future. Within this framework, time and resources can be allocated for patching and updating the current software. Maintaining software is a job that's never done, but with consistent and prompt updating, it can be the most reliable way to protect a business.
Every business needs to make software upgrades and consistent patching a high priority. Hackers are continually getting better at exploiting vulnerabilities, so it's crucial for companies to get better at reducing their potential risk. It's impossible for some businesses to recover after a data breach happens. So be proactive and make a plan to ditch that dead software!
Vivio would like to help with the challenges of planning for software upgrades, so we've created an infographic with the upcoming end-of-life dates for CentOS, Windows, and Ubuntu software.
If you'd like to look up the end-of-life schedule for your particular version of Windows Server, you can search for it here: https://support.microsoft.com/en-us/lifecycle/search
As always, let us know how we can help!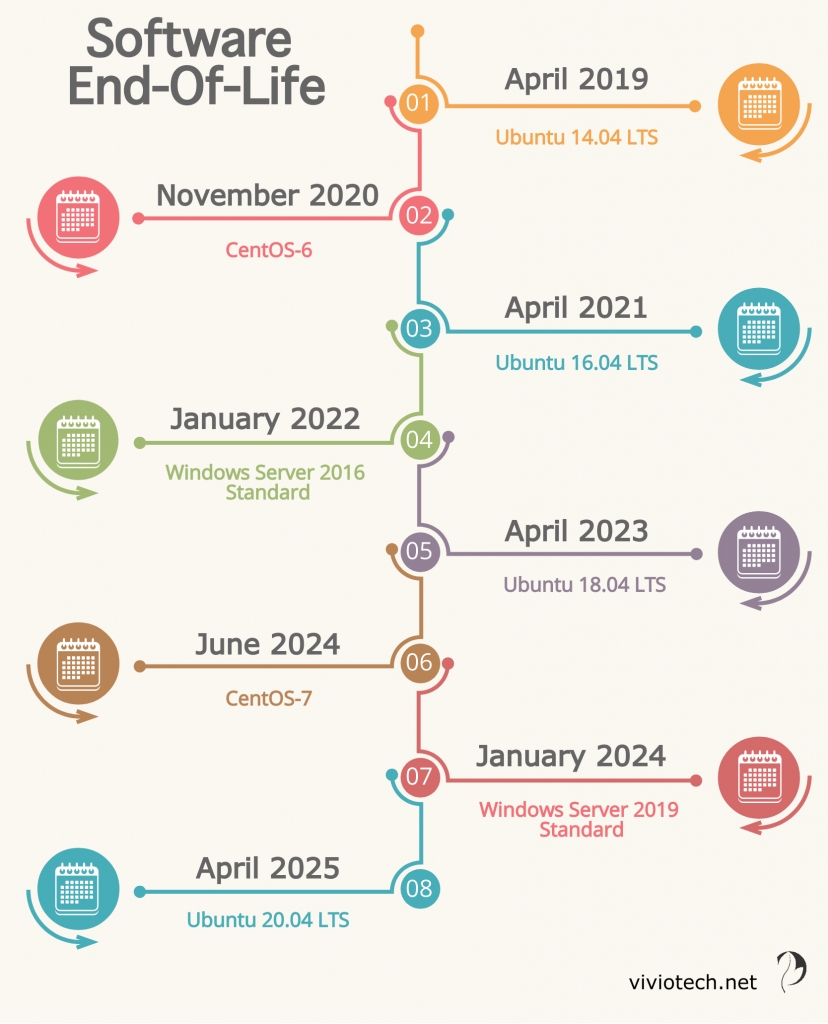 References:
1 ServiceNow. (2018) Today's State of Vulnerability Response: Patch Work Demands Attention. Retrieved from https://www.servicenow.com/content/dam/servicenow-assets/public/en-us/doc-type/resource-center/analyst-report/ponemon-state-of-vulnerability-response.pdf (March 5, 2019)